We would like to thank our sponsors for their generous support, participation and contributions that have made it possible to bring the Korea Time Music Festival to Southern California every year.
2015 Premier Sponsors

2015 Special Sponsors

2015 Sponsors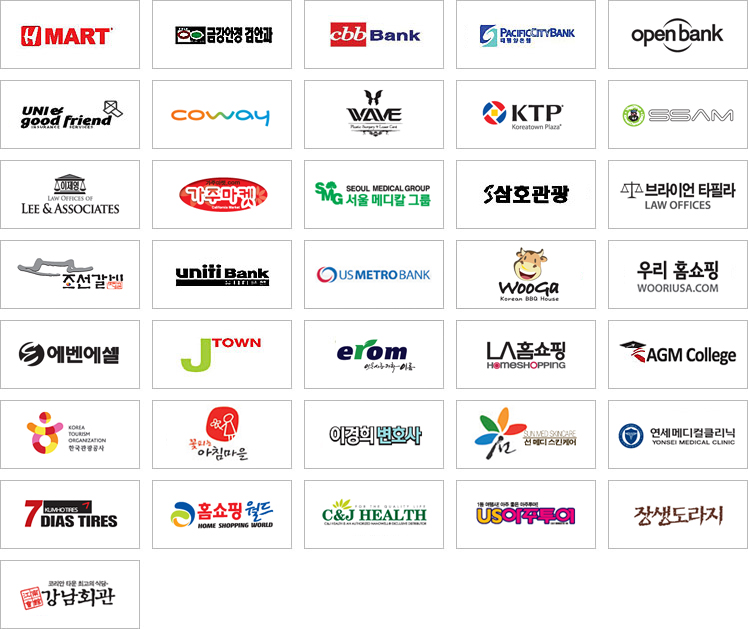 Sponsorship Opportunities
Please contact one of our associates below to find out about sponsorship opportunities and how your organization can be apart of the Korea Time Music Festival.
Mainstream Sponsorship / Korean Sponsorship
Michael Chang, Manager
Office : 323-692-2191
Fax : 323-692-2137
Email : michael@koreatimes.com
A Concert for All Generations
The Korea Time Music Festival key element of success is a result of the all-star casting of the artists whose fan base virtually covers all generations. In close cooperation with its broadcasting partners in Korea, The Korea Times has been able to invite artists that are reflective of all generations. The Korea Time Music Festival's patrons will enjoy the best ensemble of contemporary Korean music from traditional trot singers to teenage idol groups along with spectacular fireworks.
The Korea Time Music Festival provides a night of harmony that is often difficult to achieve among generations. It is the perfect night to bring the family together for a night that the whole family can enjoy.